U haul book box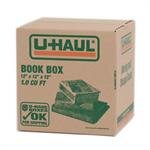 Description
The U-Haul Book Box is designed for moving or shipping a variety small, heavy items. The compact size (12" x 12" x 12") is perfect for packing books and other dense items in a lightweight package that's easy to lift and carry. The Book Box is an ideal shipping box because of its size, versatility, and durability. Use U-Haul book moving boxes as an affordable and reusable gift box for holiday or military shipping after you're finished moving.
Holds up to 65 lbs.
Box dimensions: 12" x 12" x 12" (W x L x H), 1.0 cu/ft
Edge Crush Test (ECT): 32
Use as a shipping box during the holidays
Perfect for books and other heavy items.